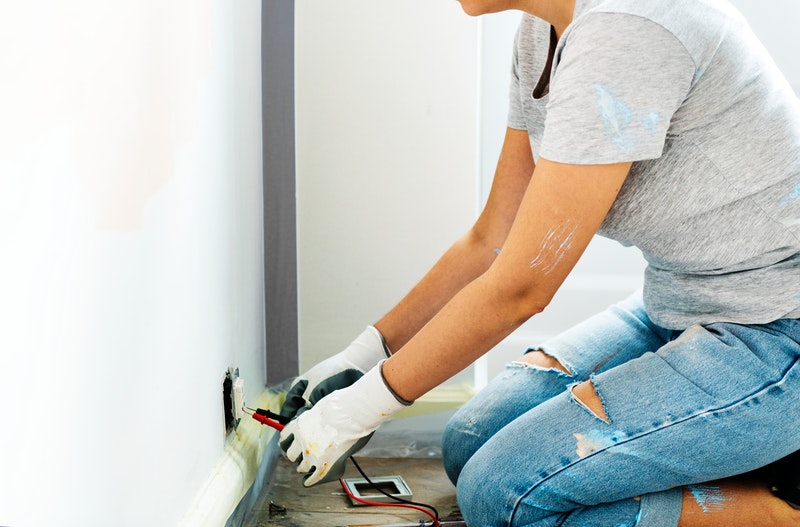 If you are reading this article, it is likely because you are ready to become an appliance repair guru. An appliance repair technician is any individual who can repair portable and home appliances, perform a variety of mechanical and electrical work, and so much more. Some homeowners are covered by a home warranty service such as https://homewarranty.firstam.com/homeowner/home-warranty/south-carolina, which you may end up working for if you want to be part of a company before branching out on your own.

However, it takes much more than just fixing things to be a good appliance repair technician. From getting the right training and certification to being an absolute mechanical wiz to having excellent interpersonal skills, an appliance repair technician is a multifaceted and lucrative career. Professionals like those at Accurate Electric Plumbing Heating & Air have a lot of experience and training behind them and so anyone looking to get into this line of work would be wise to use them as an example.

Here are a few great ways you can start your journey as an appliance repair technician.
Step 1: Find a Good Training School or Vocational Training
Like we said above, an appliance technician is an individual who can fix anything. But what does that entail exactly?

An appliance technician is responsible for the following:

Working with appliances of every variety and size
Installation, maintenance and repair of appliances
Repairing faulty electrical work, such as switches and circuit breakers
Performing general cleaning and upkeep of buildings, properties and appliances
Maintaining a good understanding of all mechanical and electrical tools
Interacting and communicating with clients on a regular basis
Staying up to date on all technological advances
With a fairly lengthy list of necessary skills, it is important that you have the best foundation possible. As such, perform close research in order to find schools and training courses that are high quality. Ideally, you want to find a school that has a staff with a high level of professionalism, courses that teach updated material, and a workshop.

Vocational or technical training is also another great option for getting the skills you need to be an appliance repair technician. Unlike traditional school, vocational and technical training courses are strictly based on developing hands-on skills.

In these courses you will learn important tools of the trade. You can learn carpentry skills and plumbing skills as well as training in refrigeration and electrical wiring. Appliance repairers need to have an understanding of electrics in order to repair the appliance and install them. If they don't, they would have to contact an electrician to come and do this part of the job. When looking for good electrical repair companies, it might be worth contacting Safe and Sound Electric. They would be able to install these appliances. Additionally, appliance repair companies need vocational training. This is great if you want to skip over theoretical classes and jump right into the hands-on stuff.

Either way, it is important that you prepare yourself for the variety of duties you will encounter as an appliance repairman.
Step 2: Get Certified
There are strict federal laws when it comes to safely handling the CFCs in refrigerators. So, if you plan on working with refrigerators, it is important you get properly certified.

Certification is typically overseen by the U.S. Environmental Protection Agency. The process usually involves taking a test that focuses on topics like refrigeration leak repair and ozone depletion.

If you are planning to work with any other type of appliance, certification is not mandatory. However, they can be of great advantage when it comes to getting hired for a job because certification shows your professionalism and competence as a technician.

If you want to get certified, a good option is the National Appliance Service Technician Certification. You can get this from the International Society of Certified Electronics Technicians.

Additionally, another thing you have to consider is maintaining a clean lifestyle and driving record. In many cases, appliance repair technicians will have to drive to client sites. Moreover, appliance repair technicians might be subject to background checks or random drug tests.
Step 3: Get an Internship
After you complete all your training and have acquired the correct certification, it is time to put it all to the test. An internship at a manufacturing company is a great way to dip your feet into the industry.

At an internship, you not only get to practice your skills, but you also get to learn from other professionals in the field. Internships are also great places to build connections. So, when you get out into the professional world, you have people to contact for advice or to help you find a job to begin with.
Step 4: Find a Job
While you are at school, vocational training or at an internship, find out if they provide ways to help you find a job. Some schools and training courses might have counselors who can facilitate and guide you through finding a job.

Moreover, they can help you fine tune your resume and help you connect with companies and positions that fit you best. Some startup jobs you will find right out of training are usually either with small business repair companies or the maintenance sector of a larger company. Either way, there are a number of opportunities available for you if you look close enough.
Step 5: Continue to Learn and Expand Your Skill Set
Last but not least, always continue to learn more about your craft. Technology is constantly evolving. As such, it is important for you to adapt and update your own education to keep up with the changes in the industry.

This will help you avoid being phased out the longer you are in the industry. Furthermore, prioritizing your education shows that you prioritize delivering the best work possible by bettering yourself and your skill set. Not to mention, businesses do not want to hire someone who uses outdated methods and practices.

All that being said, do not get complacent with your job. Take advantage of training courses or conventions and learn more about your industry. This could easily elevate you above any of your fellow technicians and help you stand out.
Conclusion
An appliance repair technician is a great career for anybody who likes to get their hands dirty. However, there is a lot more to being an appliance repair technician than just fixing things. With the wide scope of the job, there are a lot of special skills and abilities you have to be ready to pick up. Some of these skills may be used by local electricians during their jobs. If you want to learn more about what professional electricians do, Home-Pro Electric is a Kitchener electrician. You can check them out or an electrician service in your local area and discover what appliance repair technicians have in common with them.

That's why we put together this list so that it is less daunting for any aspiring appliance repair technician to get started. Start off with a few lessons and training courses and see where it takes you. Just make sure you get as much hands-on practice as possible!