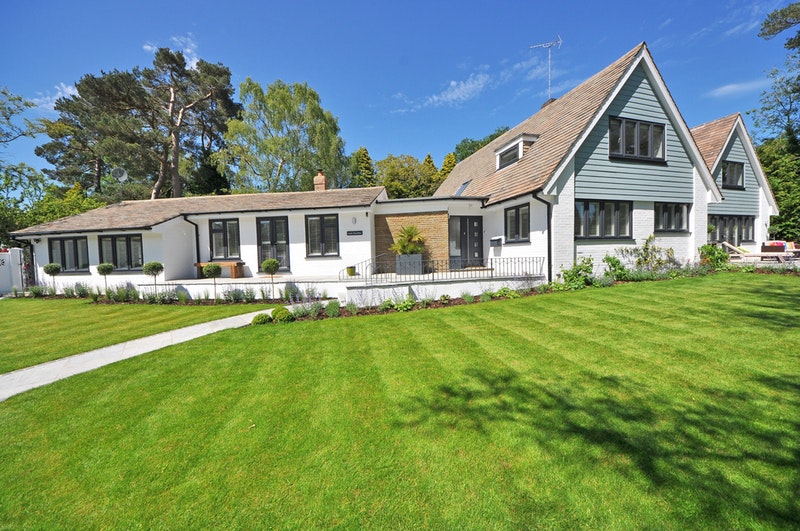 Let's Get to Work
Looking for some fun ways to spruce up your yard? Look no further. We've compiled a few great ideas you can use to get your yard looking worthy of a home and garden magazine. While these are great for saving money, if you want to save on labor you should see the latest labor-saving gardening tools, like these attachments for mini excavators, which can help you tackle the toughest of weeds and save you both time and energy. Once you've gotten rid of all overgrowth, it's time to get your garden looking its best. These are great methods because even though they require a bit of effort, they really don't cost a lot!
Cheap Ideas When You Have No Grass
Having no grass may be a bother for some, but for the minimalists and low-maintenance folks out there it is a real blessing. You can place potted plants around or make a container garden that is easy and beautiful to care for.

Beautiful planters are available to suit all budgets, and you can plant all kinds of great flowers, plants, and shrubs. You can also put together a garden box where you can grow some veggies or herbs to use right in your own kitchen.

Gravel is another relatively inexpensive idea. Call up a local gravel pit or landscaping company to see what you can get. Depending on the size of your yard, it may not cost a lot at all. Delivered gravel can be priced anywhere from $15 to $100 per ton, and provided you prepare the yard correctly, having beautiful gravel in the backyard is a nice alternative to nothing at all.

Lastly, see your local home improvement store for some fake grass. This turf is easy to care for and will not require your use of any lawn mower. Installing it yourself is the cheapest way to go but getting together with friends and buying/installing it yourself can make for a great way to make a yard look great for a relatively low price.
Cheap Ideas for the Front Yard
Opting for evergreen shrubs like the boxwood is a great way to make your yard look wonderful all year long. It stays green even in the wintertime, and snow on the evergreen trees and shrubs always looks pretty.

You can also put your AC unit in a box that you construct yourself. Covering your AC around the perimeter of the unit is a nice way to add curb appeal and minimize the "eyesore" factor that we sometimes get when contrasting the bulky unit with the pretty flowers and plants nearby.

Sometimes we just need to clean up the yard to make it look great. A walkway that is dirty makes us feel anxious, but it's very easy to clean when you use a pressure washer. Use yours to clean the walkway or deck or borrow one from a friend or family member.

Renting one for a day from an equipment company is a good way to clean off a deck or driveway and give it a new and fresh look. Add some potted plants or plant flowers along the driveway for added fun and beauty.
Cheap DIY Garden Ideas
This section is devoted to all my DIYers out there. Some of the ideas are what we call "green" meaning they recycle an object that might otherwise be trashed. An old pool could be the base of a pond and you could have a whole range of plants like the Corkscrew Rush plant as well as fish!

A tire flower planter is a nice way to use old tires. You can use paint to color the tires just as you want them to match your decor and then plant your flowers right inside. If you have access to a huge tractor tire that you can color, you have enough room to make a beautiful mini garden!

Speaking of tires, bring back the good old days by hanging a tire swing up. Even if you do not use it, little ones that come over will just love swinging on it. It is reminiscent of days gone by and can look very classy provided it is hung well! Be very careful if you choose to do this or consider hanging one just for decoration. You may even want to consider buying an actual kids swing set as they're far more impressive and will provide your children with countless hours of entertainment.
Backyard Landscaping Ideas on a Budget
To make your yard look super needn't cost a bundle. Start by finding ways to scale back on mulch. For instance, use the grass clippings to spread on your flowers. Use leaves that have fallen to provide nutrients to gardens as well. And, pine needles make for another nice way to keep the garden growing-and it's a bonus because they are lightweight!

Also be sure that you choose perennial plants that will cover your ground and prevent you from having to use harsh chemicals to kill weeds.

Some cheap ideas for covering your yard include:

Pansies and Violets-As low as 95c for the seeds
Early Snow Glories-As low as $3 a plant
Creeping Periwinkle-As low as $1 per plant
The fact that these plants come back year after year is another plus-the investment you make now will pay off in the future.
Easy Front Yard Landscaping
You don't need to be totally "green"-color wise, that is-to look like a million bucks. Try adding some pretty colors to your yard by adding Japanese Barberry or Plum-Leaf Azalea plants to your front yard. They look great and accent your evergreen plants.

You can also plant a snug garden bed. This may sound fancy, but it is really a grouping of plants very close together. They will share the soil system and nutrients. Provided you water them and care for them, they will grow and be very easy to maintain.

If you do not already have a walkway installed, try putting one in. You can buy concrete slabs from a local home store or ask a gravel pit or quarry if they have any flat rocks for sale. If required, you can also contact a professional home landscape expert at an affordable price who can help you choose different elements for your front yard and execute those ideas. Moreover, it can help you save energy and money on frequent maintenance.

Also, if it is not against local laws, see if you can use rocks from a nearby riverbank or river to use in your yard. It prevents the grass from being trampled down and prevents guests from stepping in mud during rainy days.
Wrap-Up
Landscaping need not be a difficult or pricey process. A little bit of creativity, elbow grease, and some hard work will get you a yard that looks amazing. Your yard will be a true oasis!